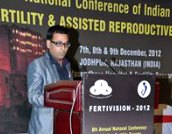 Director
Ravi Sharma
Bachelor of Pharmacy & MBA (Marketing)
Ravi Sharma is a self-motivated young entrepreneur. He is a Bachelor in Pharmacy with MBA in Marketing.
He has dedicated his life to the sufferings of childless couples and individuals. He is never tired of assisting people, surrogates, and egg donors and made himself available for them 24X7. He is working in the segment of Infertility treatment for 8 years. He is associated with the successful launch of Medical Tourism Company offers assistance in various infertility treatment options. His baby The ARTbaby offers a travel donors program and surrogacy options to clients worldwide.
He has written various articles on Surrogacy and Egg donation-based on his practical experience touching the life of surrogates mothers, egg donors, and the Indented Parents.
He is a true professional with a great human touch and feel. With his dream & commitment towards creating families for all, he has a clear focus on providing products, services & knowledge in the fertility field.
Dr. Rashmi Sharma (Obstetrician, Gynaecologist, Infertility and IVF Specialist)
MBBS (BHU), MD(BHU), DNB, MNAMS, FICOG, Diploma IVF and reproductive Medicine (Kiel University, Germany)
Director, Origyn Fertility and IVF, New Delhi,
Joint Editor, IFS Indian Fertility Society.
Formerly HOD, IVF Dept, Moolchand Hospital, Delhi (2009-2013) and Max Hospital, Pitampura, New Delhi (2013-2017).
Recipient of "C. S. Dawn Award" for best paper presentation on her work on IVF /ICSI with genital tuberculosis, at All India Congress Of Obstetrics and Gynecology (AICOG 2010).
Recipient of "Hall of fame – Best IVF specialist in India – North" at Economic Times – National Fertility Awards 2019.
Origin IVF also got ET awards in the category of "Most integrated Team in IVF –North" and "Best IVF Clinic in India –(North)".
Performed 5500 IVF/ICSI cycles till now with excellent success rate dealing with all advanced procedures related to infertility & IVF.
Recipient of "Best IFS Executive" at Fertivision -2018, Kochi.
Authored various chapters in infertility books of repute.
She has authored many national and international paper presentations and publications.
Chief Embryologist:
Ms.Ankita Gupta
Qualification:
B.Sc(Microbiology), M.Sc (Biotechnology), P.hd(Embryology) Pursuing
Exp: 4+ years
Legal Advisor
Radhika Thapar Bahl
(Advocate and Advisor)